Complimentary Replacement Retainers for 5 YEARS!
No longer worry about lost or broken retainers
We offer "No Charge" replacement retainers if you lose or break your retainer for up to 5 Years after treatment
We Are a Digital Impression Practice: Proud Owners of an iTero® Element™ Intraoral Scanner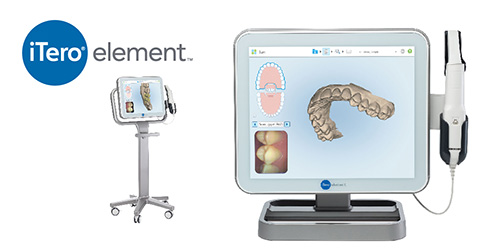 Say "goodbye" to the goop-filled impression trays!
No goop or gag to worry about
Fast, accurate impression for superior diagnostics
Ideal for all types of braces, including Invisalign® clear aligners and retainers
See a simulation of your potential post-treatment smile with the Invisalign Outcome Simulator (IOSim)
Personalized Care for Your Best Smile
Choosing to have orthodontic treatment is choosing to make a lasting, wonderful change in your life.
Our smiles, and how we feel about them, touch every part of our personal and public lives. Straight teeth improve oral and overall health, expand our self-esteem, and give us the confidence to smile, since we know our personality will shine.
Dr. Eric Castle and the Castle Orthodontics team know that changing smiles changes lives. Every day, we see our patients transform!
Why Choose Castle Orthodontics?
We strive to provide the highest quality of orthodontic care utilizing the latest technologies, such as digital impressions with the iTero Scanner, Invisalign and temporary anchorage devices (TADs).
Our team values our reputation in the community and the trust you place in us.
We believe orthodontic treatment should be accessible and affordable, so we're conveniently located and offer highly flexible financing.
We are committed to providing exceptional service, so you have an outstanding orthodontic experience, from the first phone call to your last visit!
Patient-Centered Care
Ours is not a high-volume office. Instead, we schedule all the time necessary to get to know you on a personal level, to learn about your goals and desires, and for Dr. Castle to develop your unique treatment plan. There is no "one treatment for all" in our practice; every step of your experience is tailored to you!
Because we set our schedule, we make sure you have plenty of time to ask questions, talk about the progress you're making, and discuss any concerns. We run on time and you'll never be rushed through an appointment.
Beautiful Smiles at Any Age
Today's advanced orthodontic treatments enable Dr. Castle to create beautiful healthy smiles no matter what your age may be. We care for children, teens, and adults.
We're pleased to offer clear braces and clear aligners. These are effective, efficient, and aesthetic options that allow you to develop the smile you've always wanted, with virtual invisibility.
If you're an adult who longs for a more attractive smile, we'd love to help!
Schedule Your Complimentary Consultation
Contact Castle Orthodontics, in Orcutt, CA, to learn more and schedule your consultation today.